Poly Video Conferencing System for your business
Finally Polycom and Plantronics is now Poly. Furthermore, two California based companies brought together their portfolio of high-quality proven products and services to connect people. Since 2018 these pioneers in audio and video technology have joined together.
Certainly, they were quick to recognize the increasing demand for collaboration. Further they were dedicated to develop new video conferencing products and services. Therefore, they grew to one among the leading innovators in the video conferencing sector. Above all, Poly offers a comprehensive portfolio of video conferencing systems, headsets, audio solutions through integrated unified collaboration solutions.
Furthermore, Poly is one of the largest manufacturers of video conferencing products in the world. Certainly, due to their extensive partner network, they plays a decisive role in global video conferencing projects.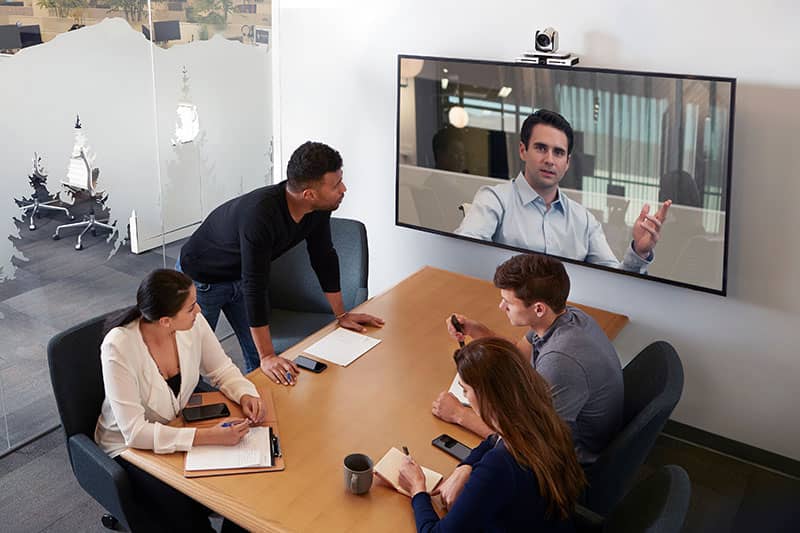 Poly Registered Partner & Certified System Integrator in Dubai
Dunes Audio Visual is an Authorized Reseller & Certified System Integrator of Poly in Dubai. Dunes AV offers a unique portfolio of high-quality proven products and services so as to connect people and enable collaboration.
Since, they offers a comprehensive portfolio including video conferencing systems, infrastructure, headsets, audio solutions and integrated unified collaboration solutions, today's leading businesses choose Poly's product for the easy and efficient collaboration of professionals through telepresence, voice, and video solutions, so that people can connect from desktops, meeting rooms, and mobile settings. Furthermore, they are all about delivering exceptional video, audio, and voice solutions for business communication and collaboration. Though the first products in the Poly portfolio were audio conferencing speakerphones, the company quickly adapted to the evolving needs of their target market, adding content sharing, video network and bridging products, and video conferencing to the mix.
So, Poly have achieved a fantastic reputation for customer satisfaction and support, further they are known for guiding businesses through the entire process of collaboration system integration, with design solutions, deployment assistance, on-going customer support, managed services, and even training opportunities.Their dedication to versatility, high-quality communication and efficiency has made Poly the must-have solution for conferencing in businesses across the globe.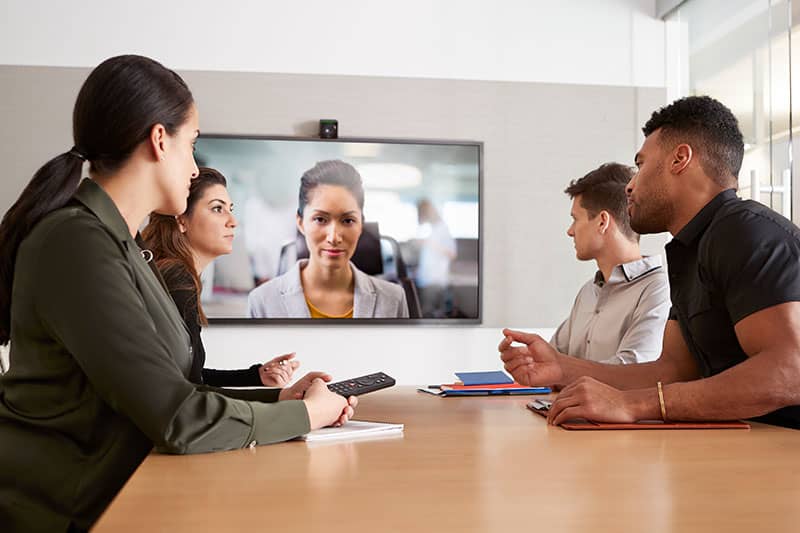 Premium performance for huddle rooms everywhere. Poly Studio delivers best-in-class audio and video in an easy-to-use USB video bar. The features you need for a price you can afford.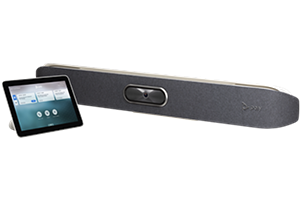 Poly Studio X50
Poly Studio X50 video bar delivers radical simplicity in a small, elegant package. Connect easily with whatever video collaboration software you may use with full boardroom-quality.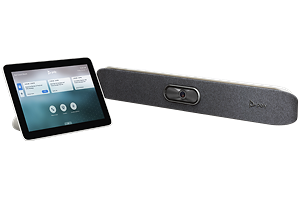 Poly Studio X30
Poly Studio X30, an all-in-one video bar for huddle and small rooms. It's radically simple to use with support for leading cloud video services built right in — no PC or Mac required.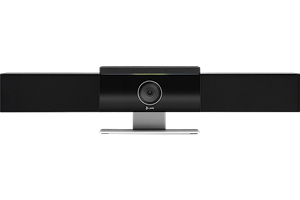 Poly Studio
Poly Studio, the premium USB video bar built for small rooms and big ideas. Delivering the best audio quality in its class, it blocks distracting sounds that can interrupt meetings.
Poly G7500 help teams share ideas and express themselves clearly—in Ultra HD 4K. With noise cancellation built-in, audio distractions like background noise and side conversations are a thing of the past.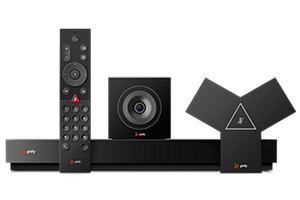 Poly G7500
Poly G7500 makes people feel like they are together in the same room with Ultra HD 4K for amazing richness and clarity when sharing content.
Poly Trio Conferencing Series
Smart Conferencing in any room. Interoperabiltity like never before. Trio smart conference phones let you join a meeting in seconds with a single touch of a button. Make audio calls, video calls, share content or all three.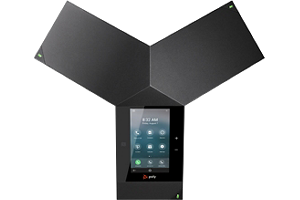 Poly Trio 8800
Poly Trio 8800, super-smart conference phone has a great sense of space. With its 6 m/20 ft of pickup, legendary voice quality and NoiseBlock technology, it makes sure the flow of ideas is uninterrupted.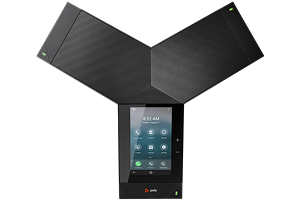 Poly Trio 8500
Poly Trio 8500, super-smart conference phone has a great sense of space. With its 4.2 m/14 ft of pickup, legendary voice quality and NoiseBlock technology, it makes sure the flow of ideas is uninterrupted.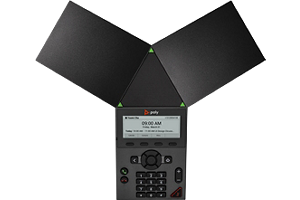 Poly Trio 8300
Poly Trio 8300, transform any small conference hub into a smart collaboration space with the touch of a button. Launch conference calls in seconds and Fill the room with rich audio.
Poly RealPresence Group Series
RealPresence Group Series is the engine that drives enterprise-grade video, voice and collaboration experiences, accelerating decision-making and fostering innovation. Only Poly delivers enterprise-grade video collaboration experiences that bring users closer together and drives meaningful conversation for geographically dispersed teams.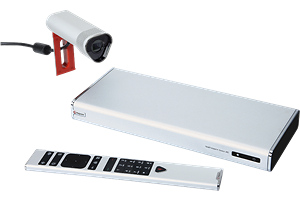 Poly RealPresence Group 310
Affordable video collaboration for huddle rooms and personal workspaces. Group 310 solution is ideal for small meeting rooms, huddle rooms, and personal workspaces and It features simple setup and configuration.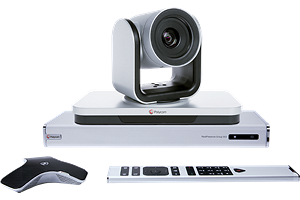 Poly RealPresence Group 500
Powerful video collaboration for group conferences in a sleek design that is simple to use. Group 500 solution is ideal for conference rooms and other collaborative environments, from small meeting rooms to larger rooms with dual screens.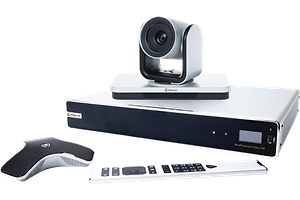 Poly RealPresence Group 700
Extreme video collaboration performance and flexibility for rooms where only the best will do. Group 700 solution is designed to be integrated into larger meeting rooms, training rooms, classrooms, and workspaces that have more complex requirements.
High performance HD video cameras for conference room solutions, computers and Polycom Trio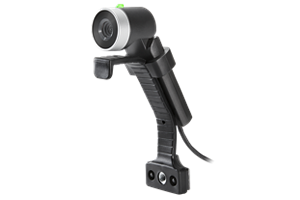 Poly EagleEye Mini
The EagleEye Mini USB camera completes your experience with business-class HD Video and Audio.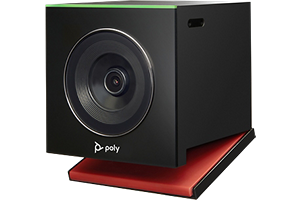 Poly EagleEye Cube
The EagleEye Cube advanced HD camera with intelligent group framing and legendary audio performance.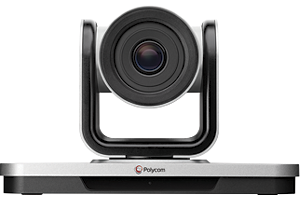 Poly EagleEye IV
The EagleEye IV are specifically designed with a completely digital sensor to capture incredible detail, these cameras also have a wide field of view.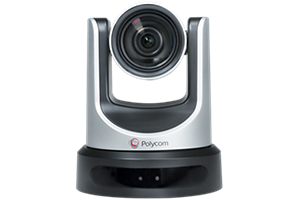 Poly EagleEye IV USB
The EagleEye IV USB delivers a premium HD video conferencing experience with pan, tilt and optical zoom capability which is suitable for medium and large meeting spaces.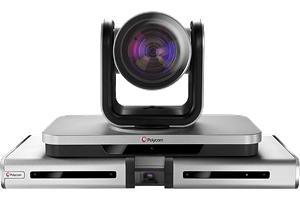 Poly EagleEye Producer
The EagleEye Producer changes the face of video collaboration through automatic, intimate framing of meeting participants, continually monitors room activity.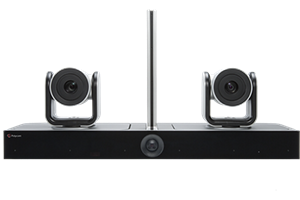 Poly EagleEye Director II
The EagleEye Director II takes video conferencing and conference room web cameras to the next level, with people tracking technology as it automatically zooms in on an active speaker without the use of a remote control or camera presets.