Poly Trio 8300
Meet Poly Trio 8300, transform any small conference hub into a smart collaboration space with the touch of a button. Launch conference calls in seconds. Fill the room with rich audio. Tune out distractions and keep everyone engaged with Poly NoiseBlock technology. Optimal coverage ensures every voice is heard. One device provides Wi-Fi2, USB, Bluetooth and IP connectivity, and a simple interface launches meetings in seconds. Plus, you get future-proof flexibility with the option to easily add video conferencing and content sharing accessories. With all these options in one smart device, you can help your teams get more done in less space. And make meetings more engaging for everyone.
Audio connectivity for mobile devices
Wi-Fi audio calling (2.4-5 GHz)2
Poly NoiseBlock eliminates background noise
Future-proofflexiblemodulararchitecture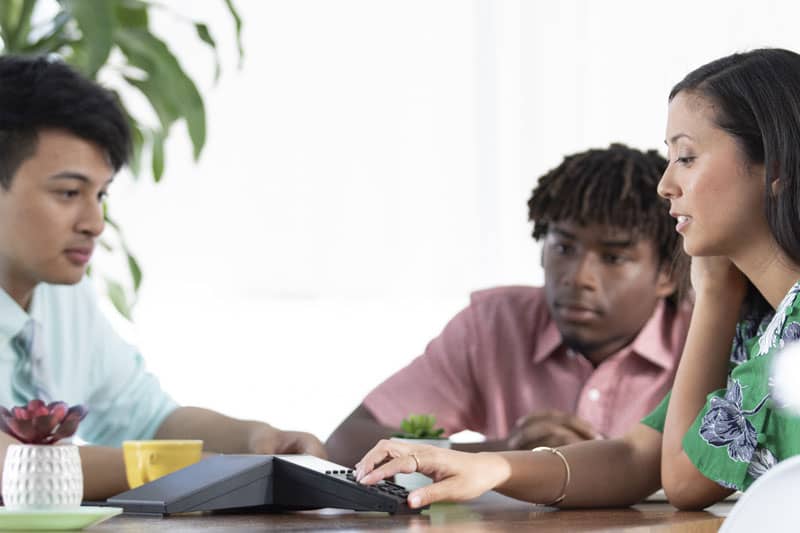 Poly Trio 8300 Highlights
Make every meeting productive with Poly's legendary voice quality and up to 3.7 m/12 ft range
Start a meeting in seconds with one-touch-join
Maximize your investment with connectivity to on-premises and cloud platforms at once—ideal for hybrid environments
Reduces time, money and IT resources with robust management and deployment options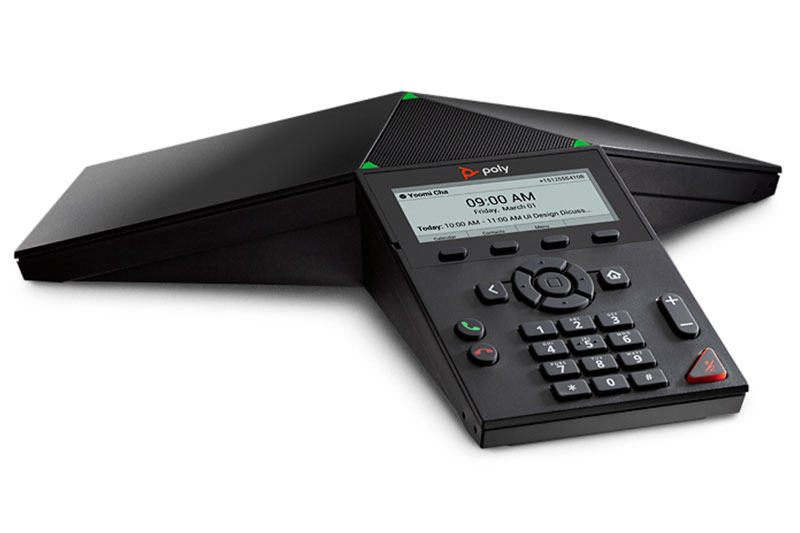 Poly Trio 8300 Specifications
Smart Conferencing in any room. Interoperabiltity like never before. Trio smart conference phones let you join a meeting in seconds with a single touch of a button. Make audio calls, video calls, share content or all three.
Dimensions
Phone: 33.9 x 29.4 x 6 cm
(13.3 x 11.5 x 2.4 in)
Unit weight: 735 g (1.62 lbs)
Boxdimensions:(LxWxH):40x36x8.5cm
(15.7 x 14.1 x 3.5 in)
Box weight: approx. 1.76 Kg (2.2 lbs)
Audio Features
Three cardioid microphones
Loudspeaker Frequency: 220-14,000 Hz, Volume: 90 dB at 0.5-m peak volume
3.7 m/12 ft microphone pickup range
Supported codecs: G.711 (A-law and μ-law), G.719, G.722, G722.1, G722.1C G.729AB, Poly Siren 7, Siren 14, SILK, iLBC (3.33Kbps and 15.2Kbps), Opus (8Kbps-24Kbps)
Poly NoiseBlock
Voice activity detection
Poly Acoustic Clarity technology provides full-duplex conversations, acoustic echo cancellation and background noise suppression–Type 1 compliant (IEEE 1329 full duplex)
Call Handling Features
Up to three lines (registrations)
Shared call/bridged line appearance
Distinctive incoming call treatment/call waiting
Call timer and call waiting
Call transfer, hold, divert (forward), pickup
Called, calling, connected-party information
One-touch speed dial and meeting join
Local five-way audio conferencing
Daisy-chain up to four
Do-not-disturb function
Local configurable digit map/dial plan
Corporate directory access using LDAP
Visual conference management